Our Products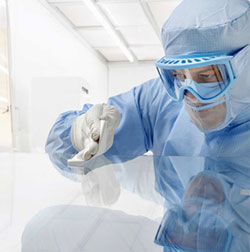 Cleanroom Garments and Services
UniClean offers three basic cleanroom garment service programs (see Program Options), that can be tailored to customer specific needs.
Garment Services for Bio-Safety Facilities
UniClean provides specialized services uniquely designed to accommodate industries with Bio-Safety Level (BSL) requirements.
Contamination Controls, Including Cleanroom Cleaning
UniClean offers cleanroom cleaning and maintenance programs to help customers operate their facilities within specified classification goals.
Complete Line of Consumable Products
UniClean stocks a wide variety of cleanroom disposable items, including: gloves, shoe covers, face masks, and tacky mats — all deliverable on predetermined schedules.
Complete Line of Cleanroom Equipment
UniClean also supplies quality cleanroom furnishings.
For more information call (877) 527-9200 or contact UniClean.